Accompanying Finland's digital democracy on their way to a safe data-driven future, with XBRL
"Open Government Data is a philosophy – and increasingly a set of policies – that promotes transparency, accountability and value creation by making government data available to all. Public bodies produce and commission huge quantities of data and information. By making their datasets available, public institutions become more transparent and accountable to citizens. By encouraging the use, reuse and free distribution of datasets, governments promote business creation and innovative, citizen-centric services."
This message from the OECD has been received loud and clear in Finland. A buoyant democracy that understood that open data will be an absolute prerequisite for local and central government steering, so as to strengthen democracy through empowerment and to create conditions for civic engagement. Finland launched their open government programme as early as spring 2013. The guiding principles are visibility (open procedures), comprehensibility (clear language), facts (open knowledge) and government as an enabler.
These objectives have given birth to countless initiatives. Today, local communities are sprouting with undertakings and Finland's six largest cities – Helsinki, Espoo, Tampere, Vantaa, Oulu and Turku – have joined forces in the 6 Aika strategy. Watch this! The Open Data and Interfaces project as a collaborative effort is paving the way towards truly data-driven cities by 2025.
The JHS project, steered by the Advisory Committee on Information Management in Public Administration of the Ministry of Finance (Julkisen hallinnon tietohallinnon neuvottelukunta, JUHTA), has been another important initiative since 2013. It aims to improve the interoperability of information systems and their data compatibility, to facilitate cross-sector process development and to make the use of existing data more efficient. With a sharp eye on data security and privacy. In 2015, it released the first version of the XBRL taxonomy of municipalities, which is a common standard used by municipal federations to report financial information. By standardising municipalities' economic and operational data, harmonisation and best practices helped greatly improve mutual information usability and management at the local government level.
The turf is favourable to XBRL in Finland, indeed.
Of course, in addition to national initiatives, in Finland also:
Banks have to comply with the Capital Requirement Directive (CRD IV), Single Resolution Fund (SRF) and the Liability Data Report (LDR);
Insurance companies, with Solvency II filing; and
Pension funds, with the Institutions for Occupational Retirement Provision Directive (IORP II).
How complex the data landscape becomes for Finnish filing companies, municipalities and regions, advisers and software producers!
Modestly contributing to the debate, may we suggest that we bring by design a complete solution to this complexity? Indeed, Arevio Finnish edition is conceived so as to welcome and adopt any new or evolving taxonomy without any change to the software. All you need to do is to download the relevant taxonomy files, feed them into AREVIO, and that's it! No delay, no hassle, no extra-cost!
Also, as your favourite spreadsheet engine is natively supported, this eases nicely data encoding. And the icing on the cake is that it works for any kind of presentation, including inline XBRL (iXBRL) – which will be all the more important that the listed companies will soon be obliged to submit filings under the European Single Electronic Format (ESEF), as brewed by the European Securities and Markets Authority (ESMA).
As we've been in touch with CSC for a long time, we are proud to be in a position to offer you AREVIO with a Finnish interface (Swedish would come soon).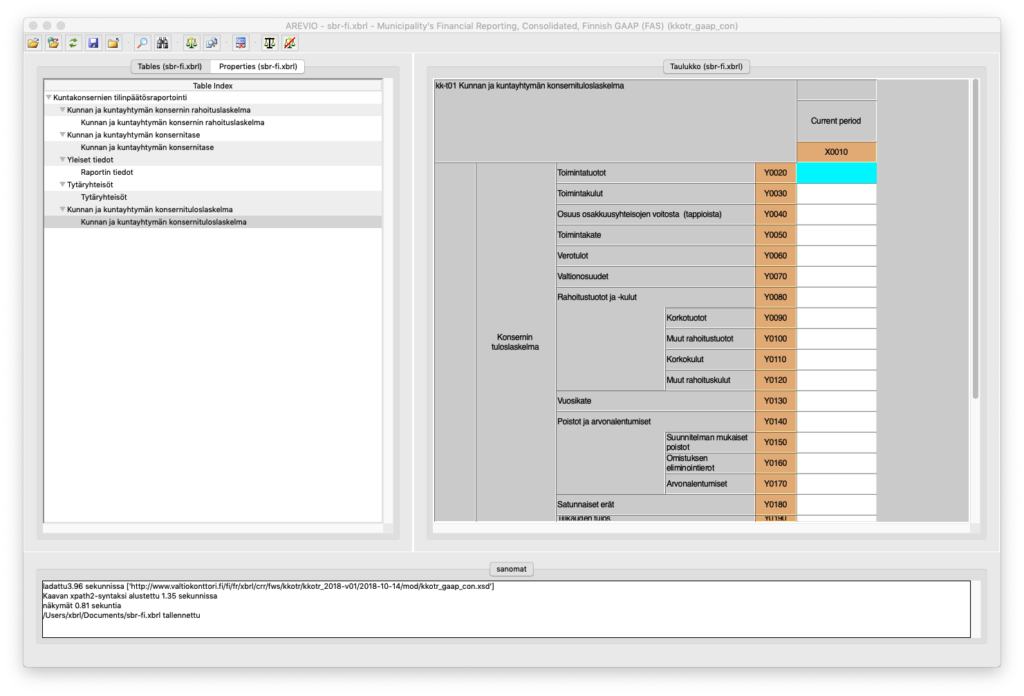 Feeling like improving your reporting chain for more flexibility and efficiency? Streamline your editorial and data reporting processes. It costs nothing to request a discovery version of Arevio Finnish edition.