Best value for money – outstanding quality of service
Today Belgium still makes an infrequent use of XBRL in the exchange of regulatory filings outside the European regulatory framework. This is set by the European Banking Authority (EBA) and Single Resolution Board (SRB), and the European Insurance and Occupational Pensions Authority (EIOPA):
Banks and financial institutions have to comply with the Capital Requirement Directive (CRD IV), Single Resolution Fund (SRF) and the Liability Data Report (LDR);
Insurance companies, with Solvency II filing; and
Pension funds, with the Institutions for Occupational Retirement Provision Directive (IORP II).
The National Bank of Belgium (NBB) is in charge of validating reports submitted by the relevant economic operators. In addition to the European regulatory framework, the NBB issued an extension to the Solvency II reporting called Interest Rate Risk (IRI_IND) which is mandatory for insurers. Naturally, Arevio Belgian edition took care of this. As it does for OneGate encapsulation which is supported whatever the type of report (OneGate being the secure communication platform for the exchange of structured XBRL data between filing entities and the NBB).
In the future, the XBRL landscape is to get more complex for filing companies, advisers and software producers operating in Belgium. Indeed, the pressure by regulatory authorities will be mounting. Companies present on EU regulated markets shall prepare their annual financial reports from 1 January, 2020 along the European Single Electronic Format, so said in December 2017 the European Securities and Markets Authority (ESMA). The ESEF will become mandatory and inline XBRL (iXBRL) will become the standard. Advanced reporting will then be at the same time machine-readable (thanks to XBRL) and human-readable on browser (thanks to XHTML). Today the marketplace is buzzing with companies seeking to get ready, and to benefit from the flexibility brought by iXBRL.
AREVIO is conceived so as to welcome and adopt all new or evolving taxonomies without any change to the software. All you need to do is to download the relevant taxonomy files, feed them into AREVIO, and that's it! No delay, no hassle, no extra-cost! And the iXBRL format is already available as output!
Feeling like impoving your reporting chain for more flexibility and efficiency? Tired of wasting time and precious money re-running XBRL validation endlessly? Eager to simplify your capture of data "facts" and to render them swiftly onto easy-to-validate XBRL instances and reports?
Streamline your process for next year's reporting, strip dispensable editorial consulting fees. It costs nothing to request a discovery version of Arevio Belgian edition!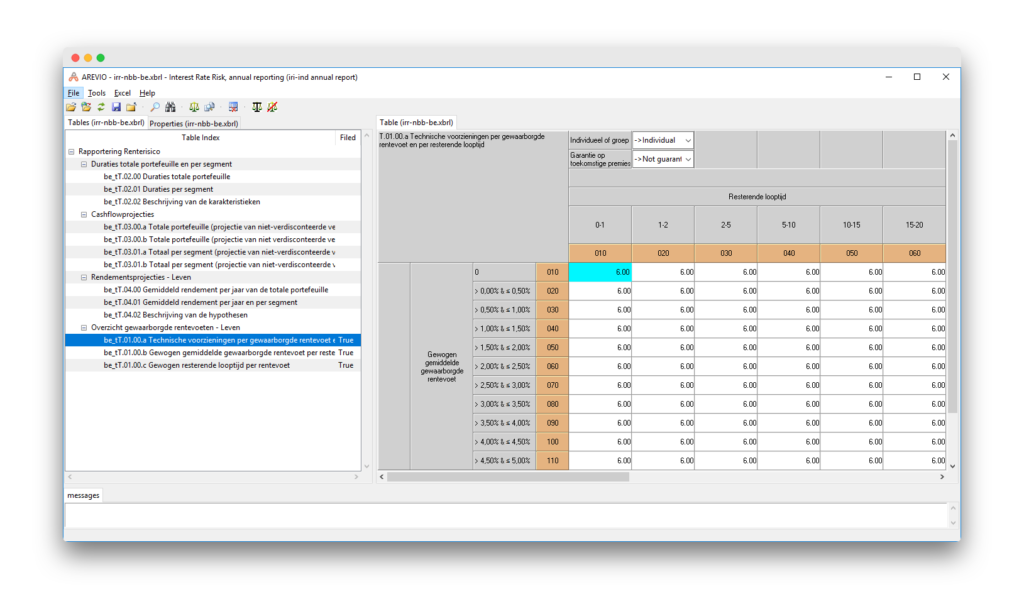 Essential features of
AREVIO Belgian edition
AREVIO is an exciting, intuitive, pedagogic, reliable, and open-minded solution:
Exciting since it can cope in no delay with any new taxonomy or evolution thereof – it's taxonomy-driven and reflects all changes brought in by regulating institutions
Intuitive, as its remarkable user interface allows you to command how data are grouped and presented – no need for specialised (and expensive!) consultants making their way through a tangle of XBRL concepts, contexts, facts and tuples,

AREVIO

does it for you!
Pedagogic, it really helps understand a new taxonomy by showing where a fact appears in different tables or statements
Reliable and bug-free! Yes indeed!
Open-minded, because as a component

AREVIO

fits ideally into your editorial process
| | | |
| --- | --- | --- |
| XBRL edition | Arelle® project | Improvements from Acsone |
| Create, edit and display XBRL report (available for taxonomies using Table Linkbase rules) | Acsone contributions into Arelle.org project. | |
| Copy from Excel/Paste to Arelle | Acsone contributions into Arelle.org project | |
| Save as HTML for one table/whole XBRL report | – | |
| Improvements for edition (Tooltips to display long labels, content of drop down lists, tab names, etc.) | – | |
| Delete line/column for open Y/X axis | – | |
| Support for editing open X/Y/Z axis | – | |
| Hide/Display XBRL taxonomy information | – | |
| Excel support for QRT | Arelle® project | Improvements from Acsone |
| Export one table into Excel file | – | |
| Export selected tables into Excel file | – | |
| Import one table from Excel file | – | |
| Import selected tables from Excel file | – | |
| Control of the imported values | – | |
| XBRL validation | Arelle® project | Improvements from Acsone |
| Formula linkbase support | | |
| Validation by table | – | |
| Validation for whole report | | |
| Contextuel display of validation errors | – | |
| Interactive activation/deactivation of formulas | – | |
| Display of formula execution times | – | |
| EIOPA features | Arelle® project | Improvements from Acsone |
| Support for EIOPA disclosure system | | |
| Support for filing indicators | – | |
| Wizard for creation of Solvency II report | – | |
| Enforcement of the constraints on figures from EIOPA disclosure system | – | |
| National Authories support | Arelle® project | Improvements from Acsone |
| Support for IRR reporting from the NBB | – | |
| XBRL specification support | Arelle® project | Improvements from Acsone |
| Support for Dimension/Formula/Table/Presentation/Computation Linkbases | | |
| Support for taxonomy packages | | |