Best value for money – Outstanding agility for your "rapportages"
In the Netherlands, the XBRL standard has become an essential part of the strategy for filing business reports. The Netherlands Bank (DNB) and the Standard Business Reporting (SBR) are the key designers of Netherlands XBRL taxonomies.
On the one hand, the DNB uses XBRL (and also XML) for most types of financial "rapportage". Banks, Insurers, Investment firms and fund managers, Payment institutions and Electronic money institutions, Payment processing service providers, Pension Funds, Trust Offices and Premium pension institutions, all have to deliver filings in XBRL format. Arevio Dutch edition accommodates today the following rapportages:
Financial reporting for investment funds and fund managers (FBO)
Country Risk (BIS CBS)
FTK reporting for pension funds
Balance Sheet Items (BSI)
MFI Interest Rates (MIR)
Interest Rate Risk (IRR)
National OTC derivatives
Verzekeraars Nationale Staten (VNS-JR)
Whereas the SBR is a brilliantinitiative underpinned by a mix of public and private institutions. It produced and maintains the Dutch Taxonomy, which is the "dictionary" defining data you need to shape the mandatory legal rapportages. These are architected in a logical way and produced at various moments of the year, depending on the types of business and legal directives.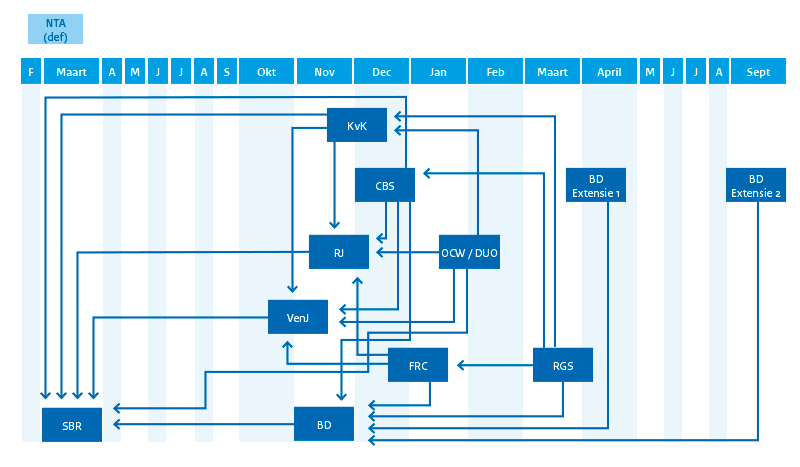 Every year, the Dutch Taxonomy is upgraded to reflect evolutions and changes in the legislation. Each rapportage-demanding party, such as BD (Belastingdienst), BZK (Binnenlandse Zaken), CBS (Centraal Bureau voor de Statistiek), KvK (Kamer van Koophandel), or OCW (Onderwijs, Cultuur en Wetenschap), observes their own calendar for publishing these upgrades. Other parties such as EZ (Economische Zaken), (IASB) International Accounting Standards Board, RJ (Raad voor de Jaarverslaggeving) or VenJ (Veiligheid en Justitie) do the same. Start with the customer – find out what they want and give it to them.
Of course, in addition to DNB and SBR national filings, in the Netherlands:
Banks have also to comply with the Capital Requirement Directive (EBA, CRD IV), Single Resolution Fund (SRF) and the Liability Data Report (SRB, LDR);
Insurance companies, with Solvency II filing; and
Pension funds, with the Institutions for Occupational Retirement Provision Directive (IORP II).
Needless to say the situation is complex for Dutch filing companies, advisers and software producers! We solve it all by design. Indeed, Arevio Dutch edition is conceived so as to welcome and adopt all new or changed taxonomies without any change to the software. All you need to do is to download the relevant taxonomy files, feed them into AREVIO, and that's it!No delay, no hassle, no extra-cost!
Also, as your favourite spreadsheet engine is natively supported, this eases nicely data encoding. And the icing on the cake is that it works for any kind of presentation, including inline XBRL (iXBRL) – which will be all the more important that the listed companies will soon be obliged to submit filings under the European Single Electronic Format (ESEF), as brewed by the European Securities and Markets Authority (ESMA).
Feeling like improving your reporting chain for more flexibility and efficiency? Tired of wasting time and precious money re-running XBRL validation endlessly? Eager to simplify your capture of data "facts" and to render them swiftly onto easy-to-validate XBRL instances and reports?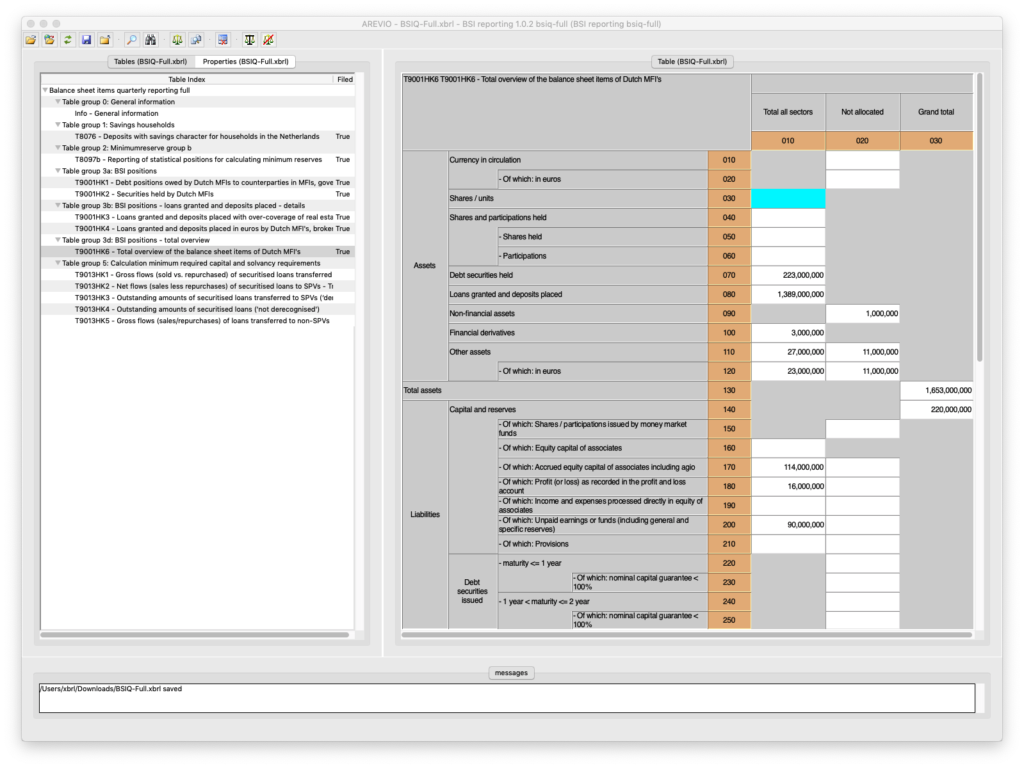 Streamline your process for next year's reporting, strip dispensable editorial consulting fees. It costs nothing to request a discovery version of Arevio Dutch edition!
Essential features of
Arevio Dutch edition
DNB XBRL taxonomies
Balance Sheet Items (BSI), version 1.0.2
DNB
MFI Interest Rates (MIR), version 1.0.1
DNB
Country Risk (Form 8023, BIS CBS), version 1.0
DNB
National OTC derivatives, version 1.1.1
DNB
Financial reporting for investment funds and fund managers (FBO), version 2.0
DNB
Interest Rate Risk reporting (IRR), version 1.0
DNB
Financieel Toetsingskader (FTK) reporting for pension funds, version 1.0.3
DNB
Payment Processing Service Providers, (PPSP), version 1.0
DNB
Premium Pension Institutions (PPI), version 1.0.3
DNB
Verzekeraars Nationale Staten (VNS-JR), version 1.1.0
DNB
SBR-NL Belastingdienst (BD) XBRL filings
Aanwijsposten, Inkomstenbelasting, Intra Communautaire Prestaties, Melding Mini-One-Stop-Shop, OB Suppletie, Omzetbelasting, Uitstelverzoeken, Uitsluitend Zakelijk Gebruik Bestelauto, Vennootschapsbelasting, Vooringevulde aangifte, Schenkbelasting, Erfbelasting
BD
Service Bericht Aanslag Inkomstenbelasting en Premies Volksverzekeringen, Service Bericht Aanslag Zorgverzekeringswet, Service Bericht Aanslag OB, Service Bericht Aanslag Vennootschapsbelasting, Service Bericht Uitstel IHZ VPB
BD
SBR-NL Binnenlandse Zaken (BZK) XBRL rapportages
Verantwoordingsmodel, Wet normering bezoldiging topfunctionarissen publieke en semipublieke sector, Regeling toegelaten instellingen volkshuisvesting bijlage 3, Woningwet
BZK
SBR-NL Economische zaken (EZ) XBRL rapportages
Nederlandse corporate governance code
EZ
SBR-NL Centraal Bureau voor de Statistieken (CBS) XBRL rapportages
Jaarstatistiek voor de productie van goederen en diensten, Korte termijnstatistiek voor de omzetten
CBS
SBR-NL Kamer van Koophandel (OCW) XBRL rapportages
Jaarrekening PO en VO, MBO, HBO en WO, WNT Rapportage
OCW
SBR-NL Raad voor de Jaarverslaggeving (RJ) XBRL rapportages
Richtlijnen voor de jaarverslaggeving voor grote en middelgrote rechtspersonen
Richtlijnen voor de jaarverslaggeving voor kleine rechtspersonen
RJ
SBR-NL Kamer voor Koophandel (Kvk) XBRL rapportages
Jaarverantwoording NLGAAP – micro rechtspersonen, met publicatiestukken
KvK
Jaarverantwoording NLGAAP – kleine rechtspersonen, met publicatiestukken, verticale balans, publicatiestukken
KvK
Jaarverantwoording NLGAAP – middelgrote rechtspersonen, met publicatiestukken, verticale balans
KvK
Jaarverantwoording NLGAAP – grote rechtspersonen, met verticale balans
KvK
Jaarverantwoording NLGAAP – organisaties zonder winststreven – kleine rechtspersonen, commanditaire vennootschappen en vennootschappen onder firma, organisaties zonder winststreven – middelgrote en grote rechtspersonen, banken, beleggingsentiteiten, coöperaties, fondsenwervende organisaties – kleine rechtspersonen, fondsenwervende organisaties, onderwijsinstellingen, pensioenfondsen, stichtingen, verzekeringsmaatschappijen, zorginstellingen, toegelaten instellingen volkshuisvesting
KvK
Jaarverantwoording IFRS, IFRS – SME's, IFRS geconsolideerd – NLGAAP enkelvoudig
KvK
SBR-NL Veiligheid en Justitie (VenJ) XBRL rapportages
Besluit actuele waarde, Besluit artikel 10 overnamerichtlijn, Besluit fiscale waarderingsgrondslagen, Besluit jaarrekening banken, Besluit modellen jaarrekeningen, Besluit uitvoering publicatieverplichtingen richtlijn kapitaalvereisten, Burgerlijk wetboek 2, Vaststellingsbesluit nadere voorschriften inhoud jaarverslag
VenJ
Including the support for CRD IV, Solvency II, IORP II and ESMA/ESEF